2019 Power and Gas Master Agreement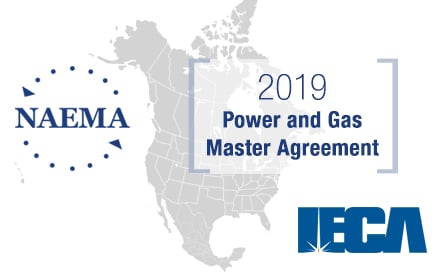 NAEMA and the International Energy Credit Association (IECA) have created the state-of-the-art 2019 Power and Gas Master Agreement (PGMA). It's the first-ever industry master agreement to cover both power and gas without supplemental product annexes. This simplification alone can save companies substantial amounts of money and time by streamlining contract negotiations and reducing required credit support.
The PGMA includes terms for power and gas transactions conducted in the United States and Canada. In addition, the Agreement has been translated into Spanish with specific additions as "optional" clauses to refer to Mexican principles and law added by the IECA's Mexico Energy Working Group – making it fully functional for all of North America.
The PGMA contains many innovative provisions which better reflect current market practices. NAEMA and IECA encourage companies to evaluate these terms with their contract professionals and counsel to determine if the 2019 Power and Gas Master Agreement can be a beneficial platform for new transactions.
To receive updates on future amendments, training sessions, webinars and announcements related to the PGMA, please sign up HERE. To read the full announcement, click HERE.
For questions or additional information regarding the 2019 Power and Gas Master Agreement, please contact Donna Foy (donna.foy@naema.com or 503.574.2130) or K.C. Hairston (kchairston@balch.com or 205.226.3435).
Please click below for full contract documents: