DCD>Grid Scale | The Virtual Event on Energy System Integration for Data Centers
April 28-29, 2021; including
NAEMA Roundtable: The Evolving Relationship Between Datacenters and the Energy Industry
April 28, 2021 at 3:45 ET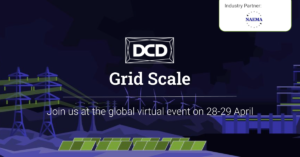 On April 28, 2021 NAEMA, as an Industry Partner with DCD, hosted a roundtable in conjunction with DCD>Grid Scale, a virtual event on energy system integration for data centers.  DCD — or DatacenterDynamics — produces high-quality conference events focused on the datacenter markets world-wide.
The explosive growth of datacenters, the transition to renewables and the need to maintain reliability require greater understanding, cooperation and collaboration between energy providers and the datacenter industry. NAEMA is pleased to join DCD in promoting dialog and developing constructive relationships between our industries as these markets evolve.
NAEMA Roundtable
To that end, NAEMA hosted a roundtable discussion with the following panelists on The Evolving Relationship Between Datacenters and the Energy Industry to explore perspectives, challenges and opportunities:
Valerie Barros: Director of Origination & Power Marketing – EDF Renewables
Stan Blackwell: Director, Customer Solutions & Strategic Partnerships – Dominion Energy
Lance Haman: Marketing Regulatory Affairs Manager – Georgia Power Company
Todd Hillman: VP – Midcontinent Independent System Operator
Bill Kleyman: EVP of Digital Solutions – Switch
Travis Wright: VP Energy & Sustainability – QTS Datacenters
Jim Richardson: Director of Business Development – Avant Energy / NAEMA Board of Directors (Moderator)
The roundtable was a great success, featuring a spirited discussion of the energy-related needs of the data center industry and the many related implications on the energy supply and delivery infrastructure required to meet those needs.  The roundtable participants agreed that ongoing dialog and relationships between the data center and energy industries will be critical to meet these challenges.