NAEMA is very pleased to announce that Evolution Markets, Inc. ("Evolution") is now a Market Member of the North American Energy Markets Association (NAEMA).  See below for an updated NAEMA Membership List.
Evolution's Member Representative is Brian Beebe and their Alternate Member Representative is Peter Zaborowsky. Contact information is as follows:
Brian Beebe
Managing Director
bbeebe@evomarkets.com
(713) 999-1455
Peter Zaborowsky
Managing Director
pzaborowsky@evomarkets.com
(914) 323-0256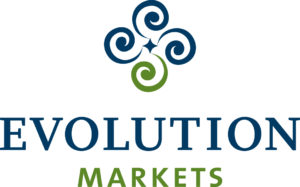 About Evolution Markets, Inc.
Formed in 2000, Evolution Markets provides strategic financial and transactional services in global carbon, renewable energy, power, natural gas, uranium, and coal markets. From offices in New York, Houston, and London, Evolution Markets offers the following services:
Brokerage

Evolution Markets acts as an efficient and unbiased broker for environmental and energy commodity markets. We assist participants in hedging against price exposure and minimizing the risks of volatility through the execution of trades either in the over-the-counter marketplace or directly on commodity exchanges.  The firm's brokers excel in providing complete price discovery to the market and ultimately finding the clearing price for trading counterparties.

Structured Transaction Services

Global environmental markets can be complex, and the transition to a clean energy economy presents new and unique risks. Evolution Markets specializes in leveraging market knowledge, risk management expertise, and a broad global network of counterparties to structure large, long-dated, and detailed transactions while enhancing value for our customers.  In addition, Evolution Markets has extensive experience negotiating long-term off-take transactions or executing procurement strategies on behalf of clients, including in carbon offset, renewable energy, and other environmental and energy products.

Advisory Services

Evolution Markets also provides comprehensive advisory services to assist your company in identifying trading opportunities and setting and meeting risk management goals in the most efficient and cost-effective manner possible.  The firm can also assist companies in identifying latent environmental assets and opportunities for off-take transactions or hedging opportunities, providing additional revenue streams.
For more information, please visit: https://evomarkets.com/