NAEMA is very pleased to announce that The Williams Companies, Inc. (Williams) is now a Market Member of the North American Energy Markets Association (NAEMA).
Williams' Member Representative is James Sweeney and their Alternate Member Representative is Bryan Mitchell.  Contact information is as follows:
James Sweeney
Executive Director, Business Development
james.sweeney@williams.com
(703) 966-3837
Bryan Mitchell
Managing Director, Origination
bryan.mitchell@williams.com
(205) 613-2197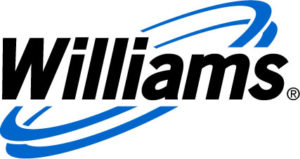 About The Williams Companies, Inc.
Williams is committed to being the leader in providing infrastructure that safely delivers natural gas products to reliably fuel the clean energy economy. We handle 30% of the natural gas in the United States that is used every day to heat our homes, cook our food and generate our electricity. With interstate natural gas pipelines and gathering & processing operations throughout the country, we reliably deliver value to our employees, investors, customers and communities by running our business with authenticity and a safety-driven culture, leading our industry into the future.
Our interstate gas pipeline and gathering & processing operations span the United States, allowing our customers, investors, employees and communities to maximize the opportunities created by North America's vast supply of natural gas and natural gas products.
Our footprint includes strategic assets in the deepwater Gulf of Mexico, the Rockies, the Pacific Northwest and the Eastern Seaboard. We are headquartered in Tulsa, Oklahoma, with major offices in Houston and Pittsburgh. Williams common stock (WMB) is listed on the New York Stock Exchange.
For more information, please visit:  https://www.williams.com/