NAEMA is very pleased to announce that Tidal Energy Marketing, US, LLC is now a Market Member of the North American Energy Markets Association (NAEMA).
Tidal Energy Marketing's Member Representative is Jay Alexander, and their Alternate Member Representative is Troy Hannweber.  Contact information is as follows:
Jay Alexander
Senior Director-Power Origination
jay.alexander@tidal-energy.com
(713) 409-0673
Troy Hannweber
Senior Director, Trading & Origination
Troy.hannweber@tidal-energy.com
(403) 969-3964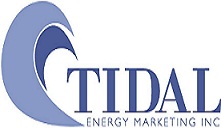 About Tidal Energy Marketing, US, LLC
With over 20 Years of Marketing Experience, Tidal is a full-service Crude Oil, Condensate, NGL, Natural Gas and Power Marketing Company. Tidal's Calgary and Houston presence provide integration across North American Markets and access to Global Markets. We are driven to create value for customers, provide rewarding opportunities for employees and achieve a positive return for shareholder capital. Long Term relationships based on extensive experience, operational excellence and logistical solutions are Tidal's platform for growth. Tidal is a wholly owned subsidiary of Enbridge Inc. and supports many of the Enbridge network assets.
For more information, please visit: https://www.tidal-energy.com/